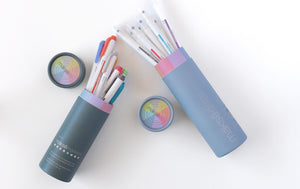 Get everything you need for purposeful living in the New Year!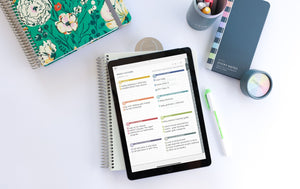 Goal-setting and planner system, training, and community that combines action with mindset to create the life you want
Welcome
Goal-setting Done Differently
Founder Sierra Friend is a Certified Life Coach and workshop facilitator who has helped people create lasting change since 2005. Her system is uniquely designed to keep you anchored in your goals yet flexible in their execution—with growth as the primary objective. Take an imperfect step, reflect on what's not working, and adjust where needed (we embrace the messy bits!). Our team is here to support your journey and champion your progress because we whole-heartedly believe you have what it takes to create the life you want.
"Building inner-wealth is our definition of success. Who you become in the process of working towards your goals is as important, if not more, than crossing the finish lines of achievement." -Sierra Friend
At MäksēLife (pronounced moxie life), all people, thoughts, and beliefs are accepted here because everyone's dreams deserve to be realized. Be bold. Be you. Just Begin.
HOW IT WORKS
Write your goals in the same place as your daily or weekly plans to stay grounded in your vision while taking bold, imperfect steps toward the life you want to create.
Step 1
Compass Assessment
Get ready to see your life from a whole new perspective. Assess yourself in eight different areas to know where you're starting from and where you want to go.
Step 2
Intention Setting
Intent creates action and action creates change. Getting clear on your purpose keeps you anchored to your vision.
Step 3
Annual Goals & Vision
Establish a road map for the year in each area of your life. This sets the foundation for taking meaningful action toward your goals.
Step 4
Monthly Goals & Weekly Actions
Break down your long-term goals into smaller actions (we'll guide you in how to do this!). This is where incremental shifts lead to big changes.
Step 5
Monthly Reflections & Quarterly Review
This is the most powerful step in our system because reflection gives you space to pause, celebrate wins (even small ones!), learn from setbacks, and adjust as needed so you're always making progress.
Free Training
Want to gain some momentum with your goals?
Sign-up below to watch our March 2023 Training (Momentum - Power Appointments) absolutely FREE and learn why ClubMäksē is the membership everyone is raving about.
They're talking about us in...
Go Paperless
Digital MäksēLife
Old school or new school, MäksēLife is all about supporting what works best for your needs. Our interactive digital planners include all the same tools as the printed version…and then some. Added features and functionality allow you to personalize your experience. Both systems provide a framework for taking action toward your goals, with space for insights and discoveries. It's your life. Do it your way.
Begin Here
FREE COMPASS ASSESSMENT
If you had a bird's-eye view of your life, what would you see? And how would that insight drive your path forward? With our Compass Assessment, you'll rate yourself in eight different life areas to identify blind spots and growth opportunities so you know where to focus your attention. What you discover will guide your intentions, vision, and goals so everything is aligned.
- Establish a starting point

- Evaluate your life as a whole

- Embrace growth opportunities
What the #MäksēFam is Saying
★★★★★

I've tried other goal-setting planners in the past. Nothing compares to the peace I feel when I'm working in my Makselife
★★★★★

This system is so amazing. I feel like I bought a life coaching package and got a free planner with it!
★★★★★

Like a true planner fanatic, I'm not sure that I have stayed put in one planner for an entire year - until now. The MäksēLife planner fills all my needs. I used almost every page. It makes my life easier and it did so beautifully.
★★★★★

This is the first planner/planning system that I have actually used consistently
★★★★★

I have truly loved using the system, it has been a life-changer for me and has allowed me to really make some big changes in my life.
Come as you are...
Welcome to ClubMäksē
ClubMäksē is a community membership program that combines professionally-designed training with group coaching to support your growth and learning. Goals are an important part of the process, but we go much deeper than that.
I believe your mindset is your superpower, and you have what it takes to harness that potential in a life-changing way. By focusing on mental health and mindfulness, our team helps you clarify what truly matters and overcome the mental barriers that stand in the way of what you want. I hope to see you there!
-Sierra, Life Coach + Founder